!- michigan private investigator : http://www.dacoinvestigations.com -->

<!- private investigator michigan 734.646.2246: http://www.dacoinvestigations.com -->

"They Paint Houses"
The house where hoffa was killed:

- Mr. Bozung is President and CEO of DACO Investigations, LLC, a full service licensed professional investigative agency located in the State of Michigan and a former law enforcement officer with 25years, 25000 hours of experience resulting in a high level of proficiency conducting investigation of theft, alleged fraud, misconduct and violations of contractual policy, divorce, custody and personal injuries. Investigator Bozung's years of service has resulted in advanced skills of interrogatory interview and evidence gathering techniques necessary to develop a case from inception through judicial disposition. Investigator Bozung maintains daily experience compiling confidential background information through investigative research for H.R. evaluation, licensed security, investigative operations and law firms and routinely develops investigative strategies to identify sources of information relative to the subject of an investigation. DACO Investigations LLC is a Michigan Private Investigations Agency specializing in criminal and domestic surveillance investigations.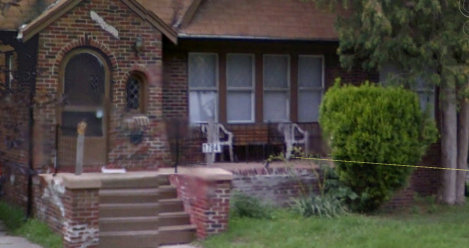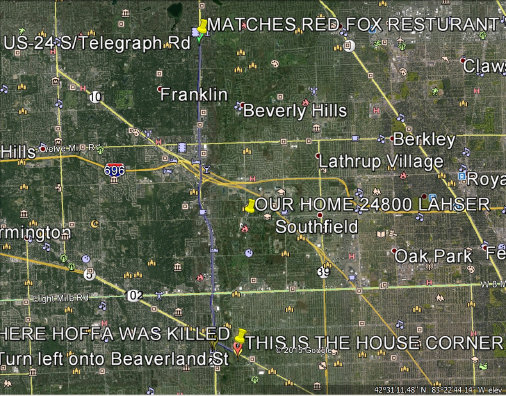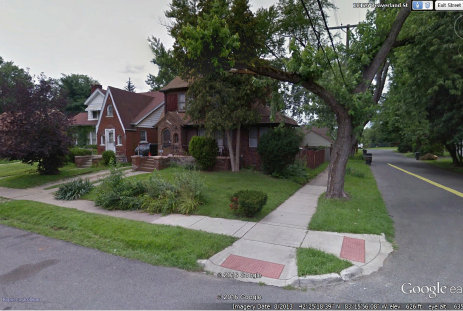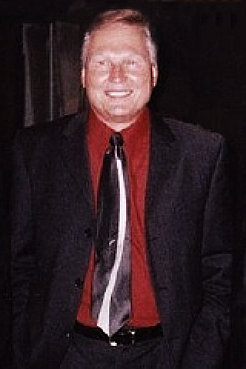 (734) 646-2246
DACO INVESTIGATIONS LLC
MY SOUTHFIELD HOME WAS RIGHT IN THE MIDDLE OF THIS CRIME SCENE. MAPS, VIDEOS INCLUDED WITH THIS INVESTIGATION. POWERFUL, COMPELLING AND NOW SEEMS TO HAVE BEEN PROVEN! WHO KILLED HOFFA AND WHERE?

Frank Sheeran deathbed confession of where he shot Jimmy Hoffa on July 30 1975. It all started, and ended, on this day. It was a hot July afternoon 38 years ago, nearly 92 degrees, when Teamsters president and labor icon Jimmy Hoffa is said to have opened the rear door of a 1975 maroon Mercury in the parking lot of the Machus Red Fox restaurant, in Bloomfield Hills, Mich., and climbed in and driven to 17804 Beaverland. (THIS IS THE HOUSE CORNER OF CURTIS AND BEAVERLAND just south of 7 Mile Road in the City of Detroit.

The "SQUARE" cut and replaced in the wood flooring in the entryway to this house was cut up by investigators who believed they saw evidence of "BLOOD" on the floring.
This is VIDEO of the house where hoffa was killed: http://www.dacoinvestigations.com/hoffa.html

In 1976, the bureau branded Zerilli, then 48 years old, an "important figure" in its Hoffa investigation. The FBI said: "sources indicate no Detroit hit would be made without his approval."
But I believe, based on my 2004 investigation, that Frank Sheeran did it.

"Suspects Outside of Michigan: Francis Joseph "Frank" Sheeran, age 43, president local 326, Wilmington, Delaware. Resides in Philadelphia and is known associate of Russel Bufalino, La Cosa Nostra Chief, Eastern Pennsylvania," reads the 1976 HOFFEX memo, the compilation of everything investigators knew about Hoffa's disappearance that was prepared for a high level, secret conference at FBI headquarters six months after he vanished.

Sheeran, known as "The Irishman," told me that he drove with Hoffa to a nearby house where he shot him twice in the back of the head. Our investigation subsequently yielded the corroboration, the suspected blood evidence on the hardwood floor and down the hallway of that house, that supports Frank's story.

No one who has ever boasted about knowing what really happened to Jimmy Hoffa has had their claims tested, scrutinized, and then corroborated by independently discovered evidence... Except Frank.

He is also the only one of the FBI's dozen suspects who has ever come forward and talked publicly about the killing, let alone admit involvement. Every other claim that you have ever heard about, from Hoffa being buried in the end zone of Giants Stadium to being entombed under a strip of highway asphalt somewhere, came from people who were never on the bureau's list of people suspected of actual involvement.

For that reason, Frank stands alone.

Six weeks after Hoffa disappeared, Frank, along with the other suspects, was summoned before the Detroit grand jury investigating the case. He took the Fifth.

When I met him in the spring of 2001, Frank freely talked.

My meeting with Frank was arranged so that I could take his measure, and he mine, for a possible in-depth investigation, interview and news story about his claims. He was accompanied by his former lawyer and by Charlie Brandt, the author of his then-proposed biography, which tells Frank's story. Charlie had been able to spring Frank from a Mafia-related federal racketeering prison sentence, and for that reason was taken into Frank's confidence.

It would be three years before Charlie's completed bestseller, "I Hear You Paint Houses: Frank 'The Irishman' Sheeran And Closing The Case On Jimmy Hoffa" would be published by Steerforth Press, and before the first of my many news stories about Frank, and our investigation, would air on television.

His story is this: He and others were ordered by the Mafia to kill Hoffa to prevent him from trying to run again for the presidency of the Teamsters union. Hoffa had resigned after serving prison time for jury tampering, attempted bribery and fraud convictions. Frank picked Hoffa up at the restaurant, accompanied by two others, to supposedly drive Hoffa to a mob meeting. When they walked into the empty house together, with Frank a step behind Hoffa, he raised his pistol at point-blank range and fired two fatal shots into his unsuspecting target, turned around and left. He said the body was then dragged down the hall by two awaiting accomplices, and that he was later told Hoffa was cremated at a mob-connected funeral home.

Frank had an imposing, old-school mobster way about him that even his advanced years -- he was 80-- did not betray. His menacing aura was not diminished by a severe case of arthritis that crippled him so badly that he was hunched over when he slowly walked with two canes, struggling to put one foot in front of the other.

I found Frank tough, determined, steely. As I listened to his matter-of-fact recounting of what he said went down at that house, and giving such detail, I remember thinking what he was saying could actually be true.

Here's why: There is no doubt that Frank was a close confidant of Hoffa, someone who Hoffa trusted. And Hoffa didn't trust very many. Frank was both a long-time top Teamsters Union official in Delaware as well as an admitted Bufalino crime family hit-man and top aide to the boss himself.

The FBI admits that Frank was "known to be in Detroit area at the time of JRH disappearance, and considered to be a close friend of JRH," as the HOFFEX memo states.

Hoffa's son, current Teamsters President James P. Hoffa, told me in September 2001 that his father would have gotten into the car with Frank. He said that his father would not have taken that ride with some of the other FBI suspects whom I mentioned.

Frank, in the book, says that he sat in the front passenger seat of the car as a subtle warning to Hoffa, who habitually sat there. He felt a deep friendship and loyalty to Hoffa, yet knew what his own fate would be if he failed to carry out the lethal order from his mob masters. So he sat in the front seat hoping Hoffa would realize something was wrong. He did not.

The FBI did find "a single three-inch brown hair...in the rear seat back rest" of that car that matches Hoffa, and three dogs picked up "a strong indication of JRH scents in the rear right seat."

During my interview, I asked Frank if he remembered how to get to the house. I thought finding where Hoffa was killed, and investigating everything about the house, could be key to the case. Frank rattled off the driving directions from the restaurant and described the house's interior layout.

Killers may not remember an exact address of a murder scene, but they never forget how they got there and what they did when they arrived.

"Sheeran gave us the directions," Charlie wrote in the book. "This was the first time he had ever revealed the directions to me. His deepened voice and hard demeanor was chilling, when, for the first time ever, he stated publicly to someone other than me that he had shot Jimmy Hoffa."

A year after our meeting, Charlie and Frank drove to Detroit to try to find the house, and when they did Frank pointed it out to Charlie. They did not go in.

Three years later, in 2004, I, along with producer Ed Barnes and Charlie, first stepped foot into the foyer where Frank said he shot Hoffa, looked around the first floor and as it turned out, Frank's description fit the interior to a tee.

Ed and I arranged with the homeowners to actually take up the foyer and hallway floorboards and remove the press-on vinyl floor tiles that they had put down over the original hardwood floors when they bought the house in 1989.

We hired a forensic team of retired Michigan state police investigators to try to find any blood evidence. They sprayed the chemical luminol on the floors, which homicide detectives routinely use to discover the presence of blood.

We found it.

The testing revealed a specific pattern of blood evidence, laid out like a map of clues to the nation's most infamous unsolved murder. Little yellow numbered tags were placed throughout the first floor foyer and hallway, to mark each spot where the investigators' testing yielded positive hits. The pattern certainly told the story of how Hoffa was killed.

The greatest amount of positive hits were found right next to the front door, where Hoffa's bleeding head would have hit the floor.

Seven more tags lined the narrow hallway toward the rear kitchen, marking the drops that perfectly mimic Frank's story of Hoffa's lifeless body being dragged to the kitchen by the two waiting accomplices, who then stuffed it into a body bag and carried it out the back kitchen door.

We arranged for the Oakland County prosecutor's office to remove the floorboards for DNA testing by the FBI, though Oakland County Prosecutor David Gorcyca cautioned that it would be "a miracle" if Hoffa's DNA was recovered.

I knew those odds. A DNA hit was beyond a long shot.

Experts told me that such tiny samples of genetic material, degraded by the passage of 29 years and exposure to air and the elements under a homeowner's heavily trafficked floor, would likely not provide enough material to result in a DNA match.

The FBI lab report says that chemical tests were conducted on 50 specimens.

Twenty-eight tested positive for the possible presence of blood, and DNA was only recovered from two samples.

The FBI compared what was recovered to the DNA from a known strand of Hoffa's hair. One sample was found to be "of male origin," but it was not determined from whom. The other result was "largely inconclusive."

Was I disappointed that a DNA match was not possible? Yes. Was I surprised? No. Did I think this disproved Frank's claim? No.

Think about it.

What are the chances of any random house in America testing positive for blood traces from more than two dozen samples, in the exact pattern that corroborates a man's murder confession?

What would luminol reveal under your home's floor?

There are other reasons to believe why Frank's scenario fits.

The house was most likely empty on that fateful summer day. It was built in the 1920's and owned for five decades by a single woman, Martha Sellers, a teacher and department store employee. By the summer of 1975, Sellers was in her 80s, and not even living there full time. Her family told The Detroit News and Free Press that she had bought another home in Plymouth, Mich., where she would move permanently the next year.

In his book, Frank says that a man he called "a real estater" lived in the house. The Sellers family remembered that boarder, who they recalled resided in an upstairs bedroom. He was described as "a shadowy figure...who would disappear. He never said more than a few words and they know nothing about him, not even his name."

It is quite possible that "the real estater," was the link between the house and the Detroit mob, providing an empty house as needed, when Sellers was absent, for whatever purpose...including using it as a Mafia hit house to murder Jimmy Hoffa.

Frank's story does conflict with the long-held and generally accepted scenario about Hoffa's death, that members of New Jersey's Anthony "Tony Pro" Provenzano's crew killed him over a financial and pension dispute, and that the murder took place in another house. The book says that members of Provenzano's crew were in on the hit, but that Frank was the one who pulled the trigger. He said that the killing was ordered not over money owed to one man, but for the much larger and more meaningful purpose of stopping Hoffa's attempts at retaking the union presidency, which could have threatened the mob's union influence, power, and piggybank.

Last month, another story about Hoffa's demise was widely reported, claiming that he was garroted by Provenzano as he sat in the car's front seat. But remember that Hoffa's hair and scent were picked up by the FBI in the rear seat, not the front.

The FBI clearly believed Sheeran had credibility. The book says that agents visited him in his final years, in an unsuccessful attempt to secure his cooperation. While we were conducting our investigation in Detroit in 2004, the FBI, I was told, tried to find the house even before we aired our story. And the views of those closest to Jimmy Hoffa, his son and daughter seem especially relevant when assessing Frank's credibility.

Not only did James P. Hoffa confirm that his father would have driven off with Frank, but his sister, Hoffa's daughter, Barbara Crancer, wrote Frank a poignant letter begging him to come clean about their father's fate. The one-page heartfelt note, handwritten to Frank on March 5, 1995, is detailed in the book.

"It is my personal belief that there are many people who called themselves loyal friends who know what happened to James R. Hoffa, who did it and why. The fact that not one of them has ever told his family -- even under a vow of secrecy, is painful to me..." Hoffa's daughter wrote.

She then underlined: "I believe you are one of those people." Crancer confirmed to me that she wrote that letter.

Sadly for the Hoffa family, Frank never directly honored her request. When I sat with him, he said that his No. 1 priority was not to go back to "college," meaning prison. He decided that the best way to avoid that possibility, while also revealing his story, was to cooperate with Charlie for the book and to share his secrets with me for my investigation and reporting.

Frank died on Dec. 14, 2003. He was 83.

While authorities no doubt will continue to respond to more tips, as they should, I believe that we already know what happened to Jimmy Hoffa.

Frank described the most precise and credible scenario yet to be recounted, and the evidence that we found from the floor backs up his confession.

http://www.foxnews.com/us/2013/07/30/eric-shawn-investigates-hit-on-hoffa-38-years-later-mystery-endures.html